"If children grew up according to early indications, we should have nothing but geniuses.-"

Johann Wolfgang von Goethe
I love pushing the boundaries of what seems possible. For years now I've been inspired by questions like:
How easy can life really be?
How much joy can I possibly feel?
What is the simplest and most effective way to accomplish anything?
Who am I?
What is my unique purpose?
I aspire to be a catalyst for love, peace, joy, and genius in the world. I want every child to be connected to her/his innate abilities, intuitive knowing, and brilliant presence. I want every adult to feel relaxed, happy, confident, and to be living a life that is meaningful, passionate, joyful, healthy - a life lived fully with no regrets.
I am a parent, life partner, teacher, coach, wilderness adventurer, visionary, and yogini. I love to laugh, cook, draw, read, sing, lie in the sun, swim in the ocean, de-clutter, bike, walk, build sandcastles, meditate, and to spend time with my family. I am devoted to living a life that is full, whole, daring, and enlivening.
Authors like Abraham-Hicks, Deepak Chopra, Byron Katie, Bob Scheinfeld, Cheri Huber, Eckhart Tolle, Gay and Kathlyn Hendricks, Louise Hay, J.K. Rowling, David Allen, Karen Kingston, Lynne McTaggart, and Bill Bryson write books that inspire my ideas.
I've been working in the human potential field for over 14 years now. While completing my Bachelor of Environmental Studies from University of Waterloo, and my Bachelor of Education from Queen's University, I got my start facilitating courses at various outdoor schools and leadership centres. That led to 7 years at Outward Bound Canada where I led remote wilderness trips (up to 30 days long) and celebrated witnessing people discovering their strengths and passion.
My most recent training was with the Hendricks Institute in Ojai, California. Drs. Gay Hendricks (best selling author of over 20 books, founder of the Spiritual Cinema Circle, president of Illumination University) and Kathlyn Hendricks (co-author of 5 books, CEO of Third Pig Unlimited Films) head up the institute and both are highly respected in the field of human potential.
Over 4 years I completed my professional coaching certification, plus an intense 2-year apprenticeship led directly by Dr. Kathlyn Hendricks CEO (this involved over 50 days of direct contact time in cities around North America).
I now enjoy a wonderful relationship and a fabulous career, and my life gets better every day. I have built my dream job through word-of-mouth referral, and delight in assisting people to open to all the prospects available to them. When I'm not coaching, I appreciate spending lots of time with my partner and daughter in the woods and city of Ottawa, Canada.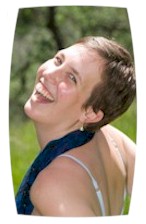 Photos by Transformational
Photography

Sign up for my FREE newsletter!
Testimonials
Delights while transforming...
"Helen rests in potential moment to moment, available to ignite, co-create and make dreams real. Her insight connects and her humour bridges. In total, she delight while transforming."
- Kathlyn Hendricks, PhD.
CEO & Director of Training,
The Hendricks Institute
Helped with greatest challenges...
"Your coaching has helped me with my greatest challenges. The first is expressing myself fully. The second is completing medical school with more ease and fun. Our discussions support me in living fully and moving forward on my journey and always bring me back to the road that I want to be on."
Tracy McKenzie - Medical Education student